Plumbing, Heating, Air Conditioning, Process Piping & Sheet-metal work
All-Rite Mechanical Ltd., serving the Regina area & Southern Saskatchewan since 1982
All-Rite Mechanical Ltd. (formerly All-Rite Plumbing, Heating & Air Conditioning) has been a recognized leader in mechanical HVAC construction in the Regina area with capabilities spanning a wide range of HVAC services and mechanical systems while serving commercial, institutional, industrial and residential markets.

All-Rite Mechanical Ltd. offer innovative and cost-effective construction services on plan and spec, value engineered, and design/build projects, with engineering that utilizes Building Information Modeling (BIM) and 3D Capabilities.
As one of Regina area's largest full-service mechanical contractors, All-Rite Mechanical Ltd. offers 24/7/365 emergency HVAC service in addition to preventative, full service, and custom maintenance programs tailored to meet our clients' specific needs. We also offer commercial energy assessments and audits for your HVAC systems.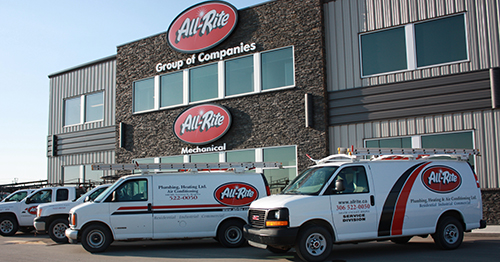 All-Rite Mechanical Ltd. offers a complete range of mechanical services for the convenience of our customers including:
plumbing
heating
process piping
sheet-metal work and
air-conditioning.

We understand.
When you call us with a plumbing or heating problem you want fast, professional service and a solution that does not waste your money.
We are proud of our diligent and well-trained service technicians. Our personnel understands how important customer service is and try hard to make sure you are satisfied before leaving the job.
Mission Statement
The All-Rite Group of Companies specializes in developing and constructing practical, energy-efficient buildings that exceed the expectations of our clients.
We pursue excellence by fostering a corporate culture which benefits all stakeholders: our customers, employees and the broader community in which we serve.
Our aim is to achieve continuous improvement through staff training and by rewarding diligence, industry, initiative and innovation.